Smoke detector and CO certificate with the City of Hoboken
The city of Hoboken requires each seller to apply for a Certificate of Smoke Detector and Carbon Monoxide Compliance. No actual inspection will take place, however, you will need to apply for it through the Hoboken Fire Department website: https://www.hobokennj.gov/departments/hoboken-fire-department. If you scroll all the way down, you will be able to find the package here. This is what that looks like: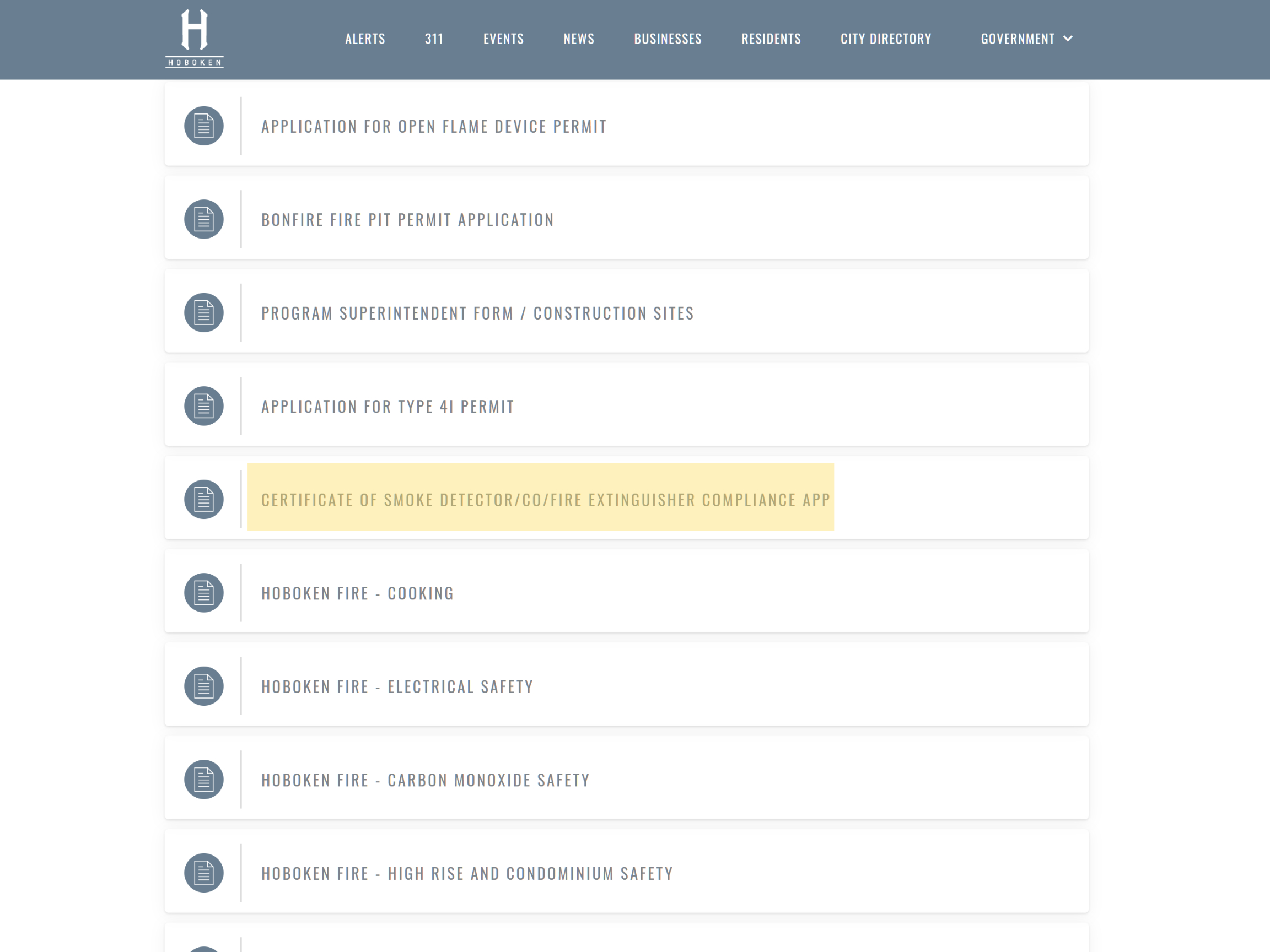 _
Please read the entire package.
INSTRUCTIONS:
A live copy is recommended to ensure the correct document is used and no challenges or delays are encountered due to using the wrong form. Please confirm it is the most up to date application. (201) 420-2268/9

The application must be signed and notarized.

A notary public would be authorized to perform a notarial act for a remotely located resident if the notary has: personal knowledge of their identity; satisfactory knowledge of the person's identity by oath or affirmation from a credible witness; and uses at least two different types of identity as proof to obtain satisfactory evidence of the person. The notary public would also be required to make an audio-visual recording of the exchange and verify the remote records, among other security measures. The bill would take effect immediately and expire upon rescission of Executive Order No. 103 by the Governor, which declared a state of emergency in New Jersey in response to the COVID-19 pandemic. Attorneys, clerks and judges can do this also.

We have access to notary in our office and if you need one we can help you with that.

Mail application, and check/money order payable to "City of Hoboken" (cash is NOT accepted) to the fire department at least 10 business days prior to the closing. If mailing please allow 5 additional business days for processing and enclose a self-addressed/stamped envelope.
You will need to ensure that your property is in compliance with the codes as outlined in the package - and ensure that all your alarms are operable and that a new 5 or 10 lb ABC extinguisher is left after closing on the kitchen counter for the new owner to ensure compliance.
The fee for processing is graduated based on how many days remain on the calendar between your application date and your projected closing date. Submit your application early to save money.
This certificate is required to close. Once you receive the certificate from the city, scan and email a copy to myself and your attorney. Then either mail the original to your attorney or bring the original with you to closing.
***Please begin the processing as soon as possible to ensure that delayed receipt of the certificate does not delay your closing.
Contact us if you have questions.
Selling Your Home?
Get your home's value - our custom reports include accurate and up to date information.
Get Home Value